Historic Partnership: RVC Unveils RTAF U1 UAV Model at RTAF Museum
27 September 2023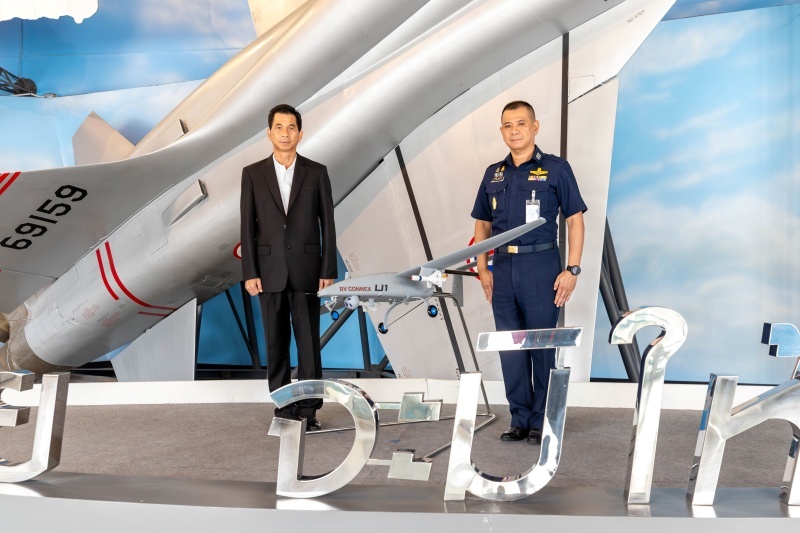 27th of September 2023 - In a historic moment, Air Vice Marshal Boonprom Pleumchai, Advisor and Representative of R V Connex Co., Ltd. (RVC), joined hands with the National Aviation Museum of the Royal Thai Air Force (RTAF Museum) to commemorate a significant milestone in Thailand's aviation history. At a formal presentation ceremony, RVC unveiled the RTAF U1 unmanned aerial vehicle (UAV) model, expressing gratitude to Group Captain Annop Nongchana, Director of the RTAF Museum.
The presentation of the RTAF U1 model underscores its invaluable contribution to Thailand's aviation heritage. Originally delivered and manufactured by RVC together with Thai Aviation Industries Co., Ltd. (TAI) to the Royal Thai Air Force (RTAF) in 2020 and 2021, a total of 19 units of these renowned UAVs have played pivotal roles in diverse RTAF operations and missions. This moment also signifies the enduring partnership and exceptional camaraderie between RVC, RTAF, and RTAF Museum.
In alignment with the museum's mission of preserving the nation's military history, RVC reaffirms its commitment to supporting aviation education. Moreover, RVC looks forward to continued collaboration with the museum in future initiatives.
For RVC, the RTAF U1 serves as a source of immense pride, showcasing the exceptional capabilities of Thai engineers and the aerospace manufacturing industry. RVC's unwavering dedication extends from design and production to research, development, and post-sale services. The company remains steadfast in its commitment to innovation, fostering the development of the Thai aerospace industry, advancing national technological capabilities, and passing on the legacy of aerospace knowledge to future generations.