RV Connex Takes the Spotlight in Aerospace and Cybersecurity at Defense and Security 2023
06 November 2023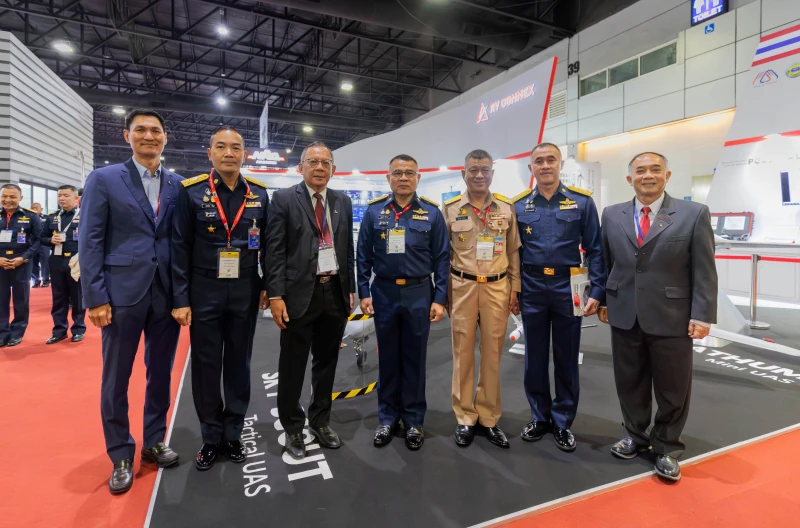 6th – 9th of November 2023 – The Ministry of Defense hosted the highly anticipated Defense and Security 2023 at the IMPACT Exhibition and Convention Center in Muang Thong Thani. The event brought together defense and security professionals, including military branches, government entities, and global organizations, promoting international cooperation and technology exchange.
Amid this global event, Thai firm RV Connex, renowned for deep-tech innovation and national security solutions, collaborated with the Industry for National Defense and Security Association (INDSA). Together, they presented "Made in Thailand" solutions certified by the Federation of Thai Industries (FTI), in line with their mission to advance domestic military technology.
RV Connex showcased its UAV expertise, featuring the Sky Scout UAV, a joint project with Thai Aviation Industries Co., Ltd. (TAI) previously delivered to the Royal Thai Air Force (RTAF) as RTAF U1 in 2023 and 2024. RV Connex's capabilities in Aircraft Design and Production, Aircraft Upgrades, UAV Engine Maintenance, Repair, and Overhaul (MRO), Autopilot Systems, Anti-drone Systems, and Target Drones for airborne threat testing were on display.
RV Connex excels in Software and System Design and Integration, introducing ALPHA for real-time data processing between command and execution units. They also presented the Command & Control Air Defense System (C2ADS) for smart city management and the Image Intelligence Center (IMINT Center) for analyzing satellite and aerial images using AI for disaster analysis and military target identification.
With a foundation in technology development, RV Connex augmented its capabilities to meet current safety and security demands. Their security systems, including Water Side and Ocean Watch (WOW) and Smart Utility for Site Application (SUSA), were showcased. Fully equipped in Cybersecurity, RV Connex offered the Cyber Security Operation Center (CSOC) in mobile application versions, AGARTHA for Fraud Detection, and the Wolf Instinct, providing Cyber Threat Intelligence.
On this occasion, RV Connex introduced CYNCLAIR (Cynclair Co., Ltd.), a startup company that leverages technology experts in AI and ML from the Gearing Up Start-Up (GUSU) project of the company. CYNCLAIR is spun off from RV Connex and offers comprehensive cybersecurity Managed Detection and Response (MDR) services. This includes Risk Assessment, the integration of AI technology, and a team of experienced cybersecurity professionals for efficient and automated protection against ever-evolving cyber threats, all provided to various organizations.