BYOND MOBILE 2022
29 September 2022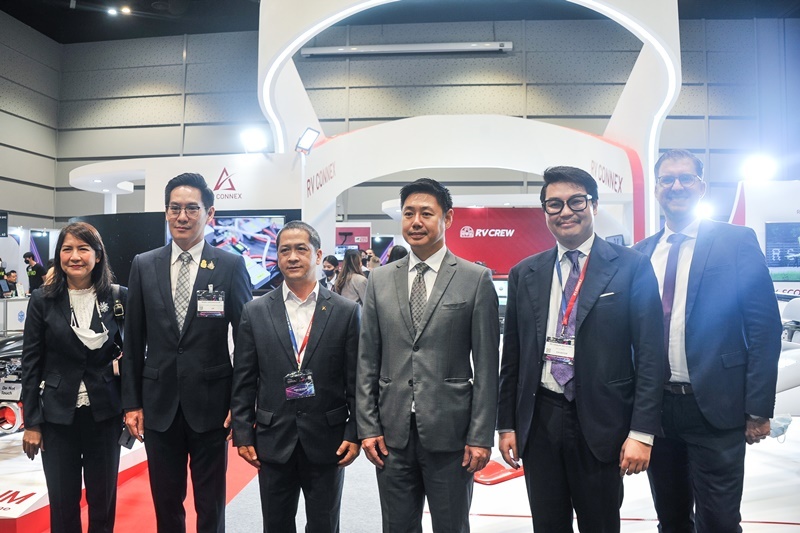 BYOND MOBILE was held from 28th to 29th September 2022 at Samyan Mitrtown Hall, Bangkok. Under the theme of "The Networked Economy: Unlocking the Potential of the IoT Era", RV Connex displayed the latest technology solutions and services in Data & Cybersecurity, Aerospace, and Smart & Safe Cities. As a knowledge partner and a deep tech company, we encouraged all visitors to explore technological trends that drive necessary innovation in today's digital age. M2 Drone Simulation, VR Simulation of Rangsit Area, and Capture the Flag (CTF) were one of the few highlights put together by our crew.
Amongst 1,100 visitors from 14 countries, RV Connex had the pleasure of welcoming Dr. Panita Pongpaibool, Deputy Executive Director of the National Electronics and Computer Technology Center (NECTEC), Mr. Newin Chochaiyathip, VICE Minister for Digital Economy and Society of Thailand, and Dr. Terdpong Honghiranrueng, Advisor to the Minister of Digital Economy and Society to our showcase.
The two-day exhibition was a meeting place for the 5G ecosystem, where industries, business leaders, service providers, and keynote speakers across the world unite. With over 50 global brand showcases in the 5G Network, RV Connex stood out amongst the crowd, partnering with globally renowned firms, Tanium and Swimlane. Upon providing a platform for visitors to experience our technological innovation, we invited all to hear from our industry experts in Cybersecurity, Software, and Cloud Security.
From our partners, Mr.Joel Wong, Head of Solution Engineering for Asia Pacific & Japan at Swimlane delivered "10 Hard-hitting Cybersecurity Facts for 2022 & What Can You Do About It?". On behalf of Mandiant, Mr. Steve Ledzian, VP and CTO for Asia Pacific & Japan addressed "Learnings and Insights from Responding to Global Cyber Intrusions". Proudly presented by RV Connex, Mr. Tanajak Watanakij, VP of Cybersecurity and Data Analytics (CYDA) participated in a Panel Discussion, where he discussed "5G, the Networked Economy, and Cybersecurity" along with launching "SYMPHONY x CYNCLAIR Managed Connectivity Cloud and Security Services to Enable Enterprise Digital Transformation" with Mr. Noppadon Musikarangsri, Head of ICT Pre-Sales Department at Symphony Communication.