EDGE Group and RV Connex sign Agreement for Autonomous Solutions in Thailand
09 November 2023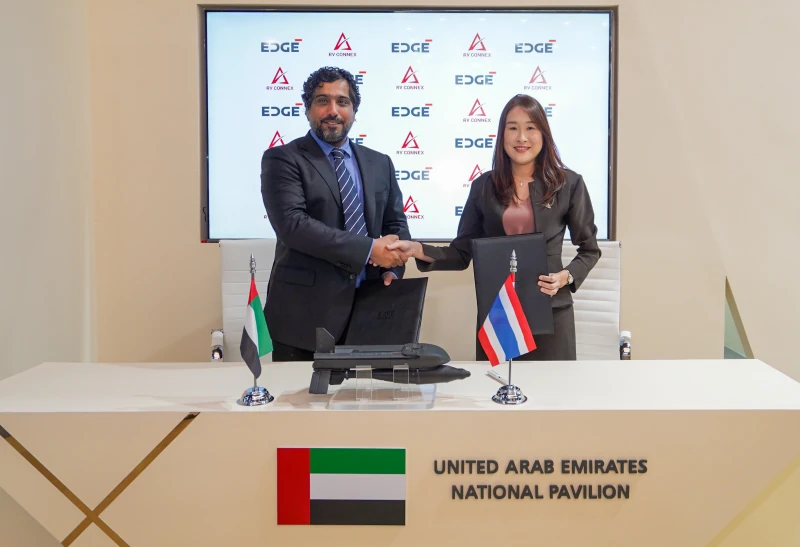 Bangkok, Thailand: 9 November, 2023 - RV Connex Co., Ltd. (RV Connex), a technology, defence, and engineering company in Thailand, and EDGE Group Co., Ltd. (EDGE), one of the world's leading advanced technology and defence groups, have announced a new partnership aimed at sharing solutions, services, and capabilities in the areas of unmanned aerial vehicles, loitering munitions, and precision guided munitions.
By pooling their considerable expertise, experience, and resources, RV Connex and EDGE will avail to customers in Thailand access to cutting-edge capabilities and holistic solutions. The agreement was signed by Wantha Wangthanasakun, Vice President Commercial and Compliance, and Hamad Al Ameri, CEO of CARACAL.
"The partnership with EDGE Group will harness our complementary expertise and experience. With RV Connex's strong track record and deep domain expertise, we are also leveraging effective technical collaborations with strong partners to bring our comprehensive suite of proven and effective solutions to the UAE and the region," said Mr. Peeraphon Trakulchang, Vice President, Managing Director & Manufacturing Director, RV Connex.
The partnership between RV Connex and EDGE leverages both companies' complementary strengths and capabilities, underscoring a shared commitment to innovation and effective solutions to address the evolving needs of defence customers.
Omar Al Zaabi, President of EDGE's Trading & Mission Support cluster, said: "By collaborating with RV Connex, one of Thailand's fastest-growing defence companies, EDGE is strengthening its commitment to advancing our technological capabilities to defence sectors in the country and across the region.
"Through this partnership, we will pursue advancements that offer innovative defence solutions to clients in Thailand by utilising RV Connex's established platforms and expertise across several defence industry segments. We look forward to jointly developing disruptive capabilities that will shape the future of the defence industry and grow EDGE's footprint in the region."
About EDGE:
Launched in November 2019, the UAE's EDGE is one of the world's leading advanced technology groups, established to develop agile, bold and disruptive solutions for defence and beyond, and to be a catalyst for change and transformation. It is dedicated to bringing breakthrough innovations, products, and services to market with greater speed and efficiency, to position the UAE as a leading global hub for future industries, and to creating clear paths within the sector for the next generation of highly-skilled talent to thrive.
With a focus on the adoption of 4IR technologies, EDGE is driving the development of sovereign capabilities for global export and for the preservation of national security, working with front-line operators, international partners, and adopting advanced technologies such as autonomous capabilities, cyber-physical systems, advanced propulsion systems, robotics and smart materials. EDGE converges R&D, emerging technologies, digital transformation, and commercial market innovations with military capabilities to develop disruptive solutions tailored to the specific requirements of its customers. Headquartered in Abu Dhabi, capital of the UAE, EDGE consolidates more than 25 entities into five core clusters: Platforms & Systems, Missiles & Weapons, Space & Cyber Technologies, Trading & Mission Support, and Homeland Security.